Custom Banner Stand Shipping Cases | Custom Light Duty Banner Stand Cases | Custom Heavy Duty Banner Stand Cases
Custom light duty ABS Banner Stand cases and our heavy duty banner stand shipping cases are designed and manufactured to provide protection when hand carrying or shipping your banner stands to show to show. Our Light duty cases are constructed of tough, .098 ABS plastic, thermo-formed to shape. Light Duty cases have custom foam interior and are durable. Our light duty cases are much lighter than traditional ATA heavy duty banner stand shipping cases.
We can custom manufacture your Light Duty carrying and shipping case to your specifications in any size and quantity. We can also customize the interior of your case or just foam line or carpet your case. *These cases are not waterproof. Let us know the model and make along with your dimensions and weight of your Banner Stand/s and if anything else is going into the case.  If you want a ATA Custom banner stand shipping case, let us know.     
For a quantity quote or have any questions, please feel free to call us at 800-515-1055 or e-mail  us Sales@newworldcase.com
Please Provide the Dimensions and weights of the Item(s) that will be going in the case/s when Requesting a Quote for your custom banner stand case.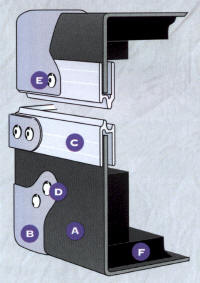 Light Duty Banner Stand Case Specifications
Light Duty cases are made of tough, .098 ABS plastic thermo-formed to shape without wood. While extremely rugged and durable, they are much lighter in weight. Light duty cases are especially suited for hand carrying and shipping under most normal conditions.
High impact .098 ABS plastic body
Stamped, nickel-plated steel corner protection
Dust-proof, extruded aluminum interlocking valance
Nickel-plated steel split rivets
Stainless steel blind rivets
Shock-absorbing polyester and/or polyethylene foam interior
Custom Banner Stand Options:
Light or Heavy Duty Construction available
Tilt-Wheels
Pull-out Handles
Locks
Anti-Static Foam