Custom Ramp Shipping Cases|Custom Shipping Cases with Ramps
We have been building Custom Ramp Cases for over 35 Years. In that time, we have constructed many Ramp shipping Cases for many applications.
Our custom ATA ramp cases are made with ABS Plastic and with plywood. They have an aluminum valance on all sides and can come with flat or ball corners and heavy-duty caster wheels.
Our custom ramp cases you make it easy to remove equipment without damage. Let us know what your requirements are, and we can quote the case for you. We can send you drawings of the case you've proposed then get your approval of the design and cost before we begin to manufacture your custom case.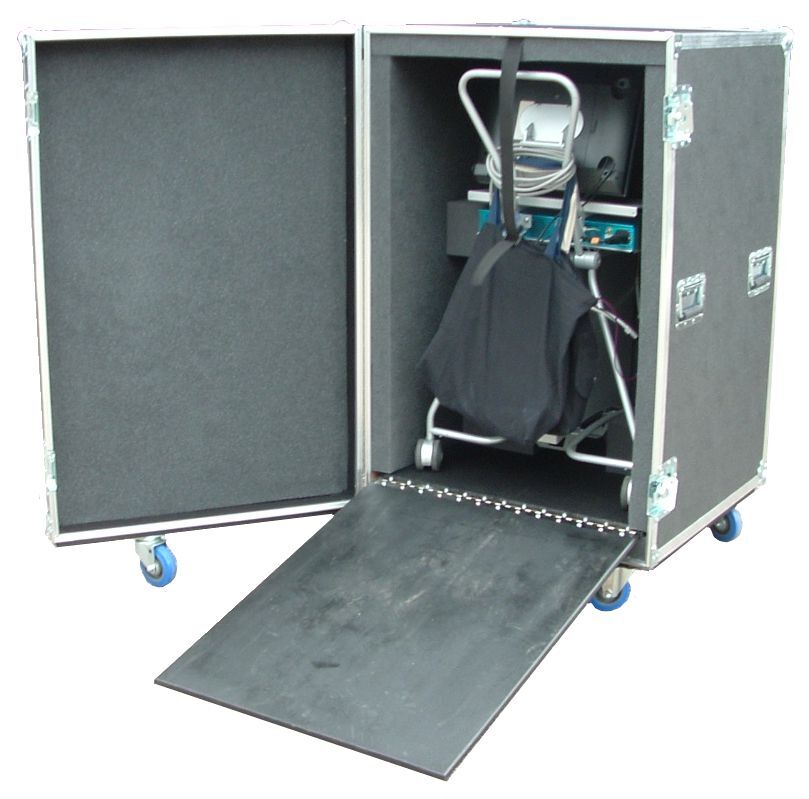 Please Provide the Dimensions, Weight and Number of Item(s) to be contained when requesting a Custom Ramp Case Quote. For a quantity quote please feel free to call us at 800-515-1055 or e-mail us at Sales@newworldcase.com
Our Ramp shipping cases are made in the USA
Custom Ramp Shipping Case
Ramp cases are recommended for transport of rolling equipment so they can be easily stored, shipped and then rolled out when ready to use.  Excellent for many different applications including Medical Equipment, Trade Show cases, Scientific instruments, Audio Visual equipment and many more.