Every custom ATA projector case is custom-manufactured in the USA by skilled craftsmen to assure the highest possible quality. Our ATA rated cases conform to the Air Transport Association Pacification 300 Category 1 standard (A.T.A. 300) for reusable shipping containers.
Every custom project case will have a custom pocket for the projector and a place for cords and remote control and other items that you may want in the case.
Custom Projector Cases are constructed from ABS Plastic laminated to plywood, aluminum valance, steel corners, heavy duty latches, and include foam or carpet lined interiors.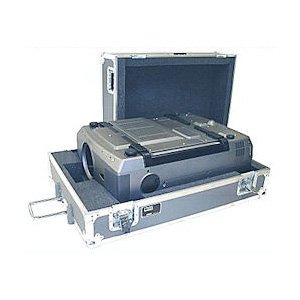 Please Provide the Make, Model & Dimensions of your Projector when requesting a custom projector case quote, or contact us if you have any questions. Call Us:  (508) 278-5526 or email us at: sales@newworldcase.com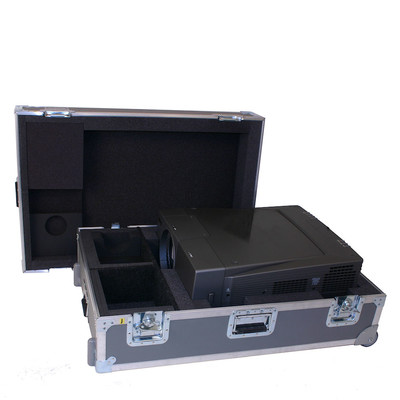 We offer a wide variety of options:
Heavy Duty Caster wheels
Stacking Options – Recessed Steel Cups – Flat or Ball Corners
Various Case Color Options
Accessories Pocket
Key locks – Combination Locks – TSA Latches and Locks
Various types of foam and carpet lining
ALL CASES MADE IN THE USA
Custom Projector Case Examples
Projector cases can be made to any specification as a carry case or rolling case with tilt-wheels and extending tow-handle, foam inserts cut for a snug fit around the projector and hinged or lift-off lid.